The news this week from Ferguson, Missouri, reminds us we still have a lot of healing and reconciliation to do in this country. When I was on the Pine Ridge Reservation a few weeks ago, I experienced firsthand how events like the Wounded Knee Massacre still cast a long shadow on relationships between people of different races and ethnic backgrounds.
Today's saint, Jonathan Daniels, was a martyr during the Civil Rights movement of the 1960s - as I wrote about last year (
http://benedictinelutheran.blogspot.com/2013/08/modern-martyrdom.html
), he was a an Episcopal seminarian from New England who answered Martin Luther King Jr.'s call for assistance, and he ended up on the wrong end of a shotgun blast as a result.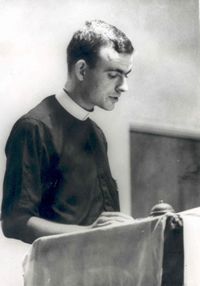 After spending time in Selma, Alabama in 1965, Daniels returned to seminary, and would have lived if he had stayed there. But, he felt God was calling him to return: "[S]omething had happened to me in Selma, which meant I had to come back. I could not stand by in benevolent dispassion any longer without compromising everything I know and love and value. The imperative was too clear, the stakes too high, my own identity was called too nakedly into question...I had been blinded by what I saw here (and elsewhere), and the road to Damascus led, for me, back here."
Why was he called to go back to Alabama, a decision which cost him his life? He also wrote: "I began to know in my bones and sinews that I had been truly baptized into the Lord's death and resurrection...with them, the black men and white men, with all life, in him whose Name is above all names that the races and nations shout...we are indelibly and unspeakably one."
On Pine Ridge, I learned that the Lakota have a phrase for the kind of unity that Daniels spoke about: "Mitakuye Oyasin", or in English, "we are all related". May God give us the strength to follow the example of St. Jonathan Daniels, so that we may continue the struggle for justice, peace, and reconciliation.
If you are interested in learning more about Daniels, you can watch an excellent documentary about his life here:
http://vimeo.com/14117023