One of these days, I'll get back to my series on how the five senses relate to Christian spirituality (
http://benedictinelutheran.blogspot.com/search/label/Five%20Senses%20of%20Spirituality
). In the meantime, I'm going to revisit the virtual tour of Lutheran monasteries that I embarked upon last summer (earlier entries can be found here:
http://benedictinelutheran.blogspot.com/search/label/Lutheran%20Monastery%20Virtual%20Tour
).
Why am I revisiting the tour now? I just found a list of several more Lutheran monasteries in this book: "Anglican Religious Life 2014-2015" - available here:
http://www.amazon.com/Anglican-Religious-Life-2014-15-communities/dp/1848254644/ref=sr_1_1?ie=UTF8&qid=1389667060&sr=8-1&keywords=anglican+religious+life
. As you can guess from the title, 99% of the communities described in the book are found within the Anglican Communion, but there is a brief section in the book devoted to communities found in the Church of Sweden, which is linked to the Anglican Communion through the Porvoo Agreement. As I explained during my stop at the Ostanback Monastery in Sweden (
http://benedictinelutheran.blogspot.com/2013/06/lutheran-monastery-virtual-tour-stop-3_22.html
), the Church of Sweden retained more of the trappings of Catholicism when compared to most other Lutheran churches. Therefore, the re-occurrence of several monastic communities in that country has been a natural outgrowth of their spiritual identity (or what remains of their spiritual identity, anyway).
Sisters of the Holy Spirit
The Sisters of the Holy Spirit, located in Alsike, founded their community in 1965. They pray the daily offices found in the Rule of St. Benedict, and are working with the Evangelical Lutheran Church of Kenya to expand there. Their convent, which includes a retreat facility, is located in an old school house next to the parish church. The community also has a group of oblates and friends known as the "Friends of St. Nicholas."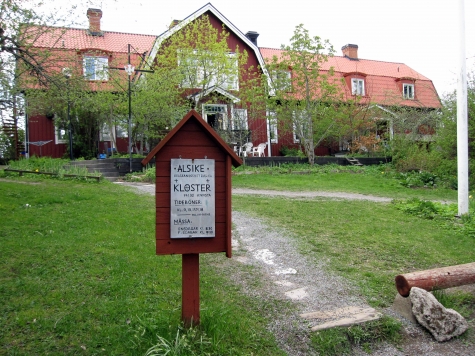 You can read more about the history of their community at their website (part of which is in English):
http://alsikekloster.org/english/english1.htm
Sisters of Saint Francis
Another community in Sweden is the Sisters of Saint Francis, who have a convent north of Goteborg. Following an adapted version of the Catholic Rule for the Third Order of Saint Francis, the Sisters pray four of the daily offices, and mass is celebrated three times each week.
If you can read Swedish, or are adept at using the Google translator, you can find out more about their community here:
http://www.klaradalskloster.se/
Other Communities
The "Anglican Religious Life 2014-2015" book lists several other Swedish religious communities, but does not have any information about them other than an address and phone number. They are:
Community of the Holy Trinity, located in Rattvik, Sweden
Mary Magdalene Sisters, located in Nacka, Sweden
Mary Daughters of the Evangelical Mariavagen, located in Enkoping, Sweden
Sankt Sigfrid Sisters, located in Ingelstad, Sweden
The Risen Saviour Sisterhood, located in Stallarholmen, Sweden
If anyone reading this blog knows anything about these communities (or any Lutheran monasteries I have missed on my virtual tour), please share what you know in the comments section, or contact me.